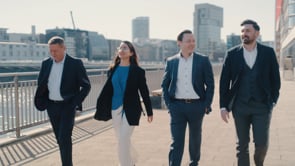 Associate Director
Manchester

,

United Kingdom

M&A
Job description
Marktlink M&A has led the Dutch M&A market for years, is growing rapidly and has opened recent locations in Belgium, Denmark, Germany and the United Kingdom. By 2025, Marktlink M&A will impact the M&A market from offices in 10 European countries.


Following our recent launch in the U.K., we are now looking for M&A professionals to join our new office in Manchester. Are you an experienced M&A professional ready to take on a new challenge? Do you want to further expand our office together with the current team of 4 professionals? Are you passionate about working with owner-managed businesses in the SME and mid-market? Do you want to become an M&A Partner within a few years? Do you want to shape the future of M&A and impact the mid-market in Manchester? Do you want to help establish the foundations of Marktlink in the U.K.? Here's you chance! We are looking for an ambitious Associate Director to join our Manchester team.
With a team of over 180 employees, we focus on transactions with a deal value of between £2.5 and £100 million. In 2022, we advised on over 150 transactions with a total value of almost €1 billion. Marktlink distinguishes itself in the M&A market for its energetic, no-nonsense, and above all entrepreneurial approach; the Marktlink DNA is getting deals done!
At Marktlink, you will be responsible for the entire process. From generating the initial lead, through to the first pitch and until the final closing. On a daily basis you are a Business Developer, a Project Manager, a Team Leader, and a Deal Captain, all at the same time. You will focus on building up a network, leading the deal team of passionate deal makers and together you advise and guide our clients through the entire buy-side or sell-side process.
Marktlink has no specific industry focus. We cover almost all industries, which means you can bring your own network or start building it up based on your preference. Dependent on your revenue you can become a Partner in a few years!
Job requirements
Ideally you bring 3+ years of M&A experience. Your M&A track record, financial experience, commercial mindset and genuine interest in entrepreneurs will make sure you succeed in dealmaking.

You are sharp, accurate, result-oriented, think on your feet and like to get things done. Furthermore, we expect you to deliver the following experience and competencies:
A track record in deal-closing and an active business network with trusted relationships in the UK
You are a social and entrepreneurial person who has practical and strategic insight as well as tactical and commercial approach
You are analytically strong, punctual and target-driven
You are passionate about SMEs and you have a genuine interest in entrepreneurs
An eye for personal relationships and excellent communication skills are a must
You are driven to realise ambitious, yet achievable revenue targets
Fluency in English is mandatory
In addition to the requirements, we are looking for personality. Who are you? What drives you? What makes you stand out?


What we offer
Opportunity to become a partner in 3 years
You will receive a competitive salary
Attractive, uncapped bonus based on group and revenue performance (>50% of salary)
Take a lead in establishing a new UK business
Joining a successful business with 27 years of heritage and market leading position in the BeNeLux.
Unlimited holidays
Flexible working hours
Company car available
Continued focus on your career growth
An informal, open yet ambitious company culture
Joining our company will give you the opportunity to shape your M&A future and establish Marktlink as an M&A market leader in the U.K. We are eager to get to know you! Send in your application today by submitting your CV, a short cover letter and a video (optional) by using the application button.
Pre-employment screening can be part of the application process.

4 STEPS TO A CAREER AT MARKTLINK Let's connect
You have applied for the position that suits you. We will contact you within five working days. Let's meet
How can you and Marktlink work together? Let's find out by starting the conversation. By phone or over a cup of coffee. Let's dive deep
We want the best people, based on a care presentation and the Talent Motivation Analysis (TMA), we look at wheter you competences and talents fit into Marktlink. Let's start
Have you ticked all the boxes and also succesfully passed the final interview? The official offer is headed your way. Together we will do great deals. Time for champagne!